Important Brexit Information
UK Transition Campaign
The UK has left the EU, and as we transition to our new relationship from January 2021, our new start will involve a series of changes and opportunities for individuals and businesses.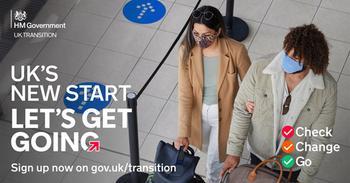 Individuals need to take action to continue to travel, live and work in the UK and EU.
Businesses need to take action to continue to operate, regardless of the deal reached with the EU.
UK's New Start: Let's Get Going" is a public information campaign aimed at raising awareness, understanding and motivation to check the guidance, make the changes, and get ready to go.
Travel to the EU will change from January 2021. Things you may need to do before you go include:
Passports – UK passports will need to have a least 6 months remaining, and be less than 10 years old. The government has created a passport checker for travellers to check whether you need to renew.
Visas – UK travellers will be able to visit Schengen area countries visa free for up to 90 days (within a 180 day period). Travel to any Schengen country counts towards this total. If you're planning on staying longer, consult FCO travel advice for that country for requirements.
Healthcare – European Health Insurance Cards (EHICs) will not be valid. You should buy comprehensive travel insurance for your trip, making sure that includes cover for pre-existing health issues.
Driving – Extra documents may be required to drive in the EU, this information will be available on gov.uk when confirmed.
Pets – Current pet passports will no longer be valid. Travellers should consult their vet 4 months before planned travel to allow enough time for the new process. This will likely include taking blood samples and ensuring vaccinations are up to date.
Roaming charges – free mobile phone data roaming will end. Travellers should check with their mobile phone network on their new roaming charges.
If you travel to the EU for work purposes after 31 December 2020, you may need a visa or work permit. Visit gov.uk/transition to find out what to do.
Key messages for businesses
The way we conduct business is changing. To find out how your business will be impacted, visit gov.uk/transition
If you travel to the EU for work purposes after 31 December 2020, you may need a visa or work permit. Visit gov.uk/transition to find out what to do
If you receive personal data from the EU for business use, you may need to take action on data protection. Find out more at gov.uk/transition